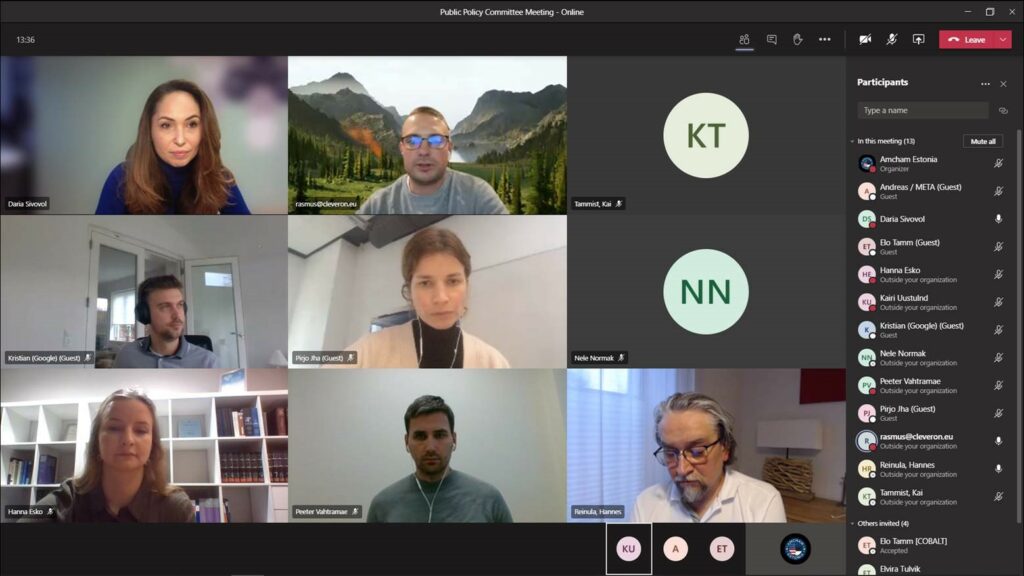 On November 16, Amcham Public Policy Committe met for the second time to introduce the newest members who have joined the committee, as well as discuss further the structure and aim of the working group, and agree on the further steps and actions.
The online committee meeting was attended by:
Nele Normak, Coca Cola Baltics
Andreas Kaju, Meta Advisory
Hanna Esko, Magnusson Law Office
Hannes Reinula, Eastman Specialites
Siiri Lahe, Estonian Cell
Pirjo Jha, Vaimo
Kairi Uustulnd, Rud Pedersen Public Affairs Estonia
Rasmus Luhakooder, Cleveron
Kai Tammist, Philip Morris Estonia
Peeter Vahtramäe, Cayman Europe
Elo Tamm, Cobalt Law
Kristian Riber, Google
Daria Sivovol, AmCham Estonia
Maria Romanjuta-Kuuspu, AmCham Estonia
The committee has agreed that it will will aim to monitor and capture all the topics and issues that are critical and important to members of the Amcham network.
If you would like to submit a topic that is critical to your sector, please contact our office at amcham@amcham.ee for further discussion and ideas on action.