AmCham Estonia speaks for American, Estonian and International companies operating in Estonia and aims to ensure a growth-orientated business and investment climate in the country.
ADVOCACY AND POLICY 2020
AmCham Talent & Education Committee Sends an Official Letter to the Prime Minister and Riigikogu Factions
AmCham Estonia Holds an Event With the Minister of Education on the Topic of the Future of Estonian Education
AmCham Healthcare Committee Meets with the Advisor for Digital Services Innovation at the Ministry of Social Affairs
ADVOCACY AND POLICY 2019
AmCham Estonia Sends an Official Letter to the Main Parties
AmCham Estonia Hold a Political Pre-Election Debate with 9! Parties
AmCham Estonia Celebrates the World IP Day at Mektory
AmCham Board, Talent &Education Committee and ITL respond to the proposed A2 language level requirement
AmCham Estonia Holds the Second Annual Healthcare Conference
ADVOCACY AND POLICY 2018
1. Held the first Healthcare Innovation Conference with multiple international speakers in cooperation with the EU Commission Representation in Estonia
2. 14 Advocacy & Policy Round – Table Meetings with Policy-Makers and Committee Meetings
Click the links below to read more about the events:
AMCHAM ANNUAL WORLD IP DAY 2018
HEALTHCARE INNOVATION CONFERENCE 2018
ADVOCACY AND POLICY 2017
1. Finalized & presented Healthcare Committee's Position Paper to the Estonian Health Insurance Fund and the Minister of Health & Labour Jevgeni Ossinovski
2. Held 7 Round-Table Meetings with Policy-Makers + 10 committee meetings
3. Updated all 5 Position Papers and prepared the Policy Packet for 2018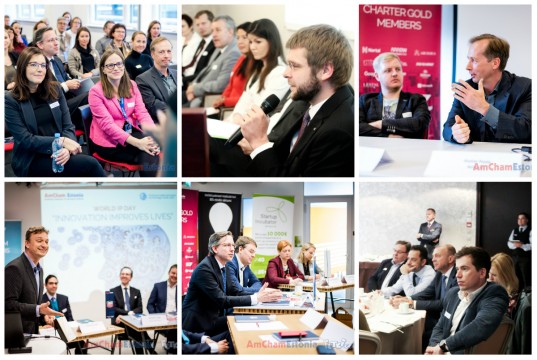 Click the links below to read more about the events:
AmCham Committees
AmCham Estonia's Committees bring together specialists and experts from a variety of industries and disciplines to generate new initiatives and communicate the views and opinions of the entire membership on a range of topics. Much of their activities involve commenting on and proposing changes to drafts of legislation prepared by the government. All committees try to supply AmCham member companies with useful information and advice in a particular area. In order to share ideas and strategies to tackle common business-related concerns, some committees actively cooperate with other foreign chambers in Estonia and AmChams in the region.
AmCham Committees are open exclusively to employees of AmCham member companies. To join any one of the committees listed below, please download, fill out and return the committee sign-up sheet to the AmCham Office.
Following, is the list of AmCham Estonia Committees: