By Guy H. Archer
Founder and Managing Director of CAPITAL PERSPECTIVES
The American Chamber of Commerce in Estonia, in partnership with the Foreign Investors Council of Estonia (FICE), held a pre-election debate on February1 at the Nordic Hotel Forum. Of the nine parties taking part in the March 5 parliamentary elections, candidates and representatives of the six leading parties participated in the debate. They were: 
Joakim Helenius, well-known businessman, representing Eesti 200

 

Martin Helme, leader of the Conservative People's Party of Estonia (EKRE), representing EKRE
Tanel Kiik, Tallinn's Deputy Mayor and former Health Minister, representing the Center Party
Urmas Reinsalu, Foreign Minister of Estonia, representing Isamaa
Riina Sikkut, Economic Affairs and Communications Minister of Estonia, representing the Social Democrats (SDE)
Andres Sutt, the Riigikogu's Foreign Affairs Committee Chairman, representing the Reform Party
The event was moderated by Andreas Kaju, Co-founder and Managing Partner of META Advisory and Vice-Chairman of the AmCham Public Policy Committee.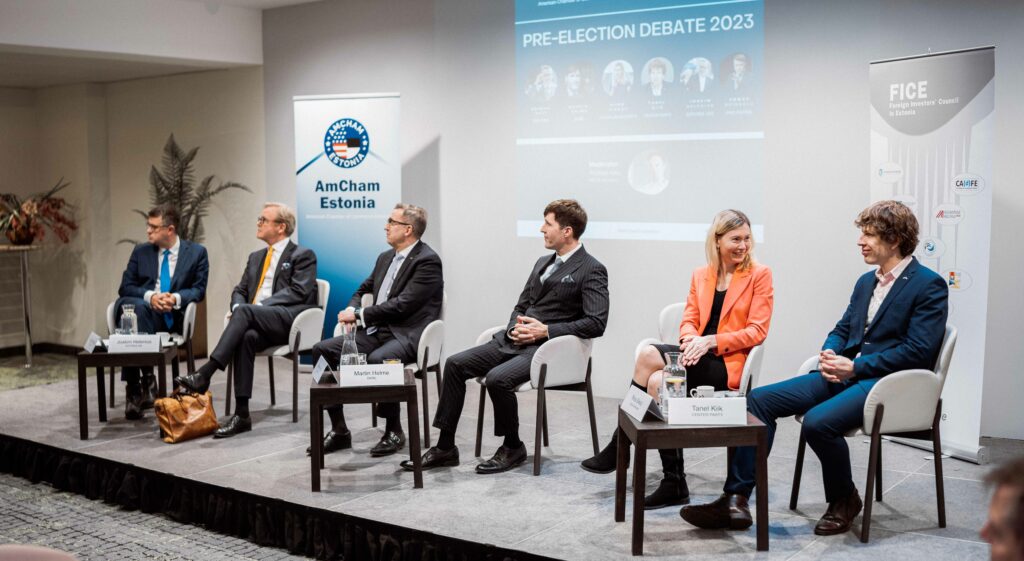 An important theme for the debate was set by AmCham's President, Indrek Laul, who said that the Russian invasion of Ukraine on February 24, 2022, had "changed the world" and that the participants and audience were  no longer living "in the same paradigm" as a year before. He evoked the memories and words of John Kennedy and Ronald Reagan, emphasizing the vital importance of not only freedom and democracy, but also of participation – both the participation of those running for office and those taking part by voting in elections.   
Estonia uses a proportional representation system, meaning that seats are awarded in its parliament – the Riigikogu – in proportion to the votes a party wins within the electorate. The election will be held on March 5 to determine all 101 members of the next Riigikogu. 
In brief opening statements, the six party representatives outlined, in very general terms, key aspects of their respective party positions, with national security – particularly in light of Ukraine's invasion – being a pervasive and shared concern and priority. As the debate continued, the moderator, Mr. Kaju, tried to draw them out to provide more actual specifics on matters that the audience and greater business community truly focus on. For example, he noted, all of the participants' party platforms were vague on the issue of corporate income tax.     
A video of the debate can be found here, and below is an overview of some of the main topics discussed. 
_____________________________________________________________________________________
SECURITY
The six participants acknowledged the importance of national security."We all agree that at least 3 percent of GDP should be spent on defense," Mr. Kiik said. Ms. Sikkut expressed the SDE's unwavering support for Ukraine. 
For a country as small as Estonia, but with such a strong IT sector, the discussion focussed on the country's innovation capabilities on one hand, and general limitations on the other. Several participants focused on the development of dual-use technology – that is, technology that can be applied in both the commercial and defense sectors. Mr. Kiik highlighted the "world class" position of Estonian IT companies and startups, while Mr. Sutt said that the Reform Party supported investment in defense and dual-use technology. Meanwhile, Mr. Helenius and Ms. Sikkut advised that it was best to acknowledge that Estonia can't be "the best at everything" and to invest in security areas where the country is already strong.
TAXATION
The SDE promotes low-income earners being able to retain more than high-income earners. The Center Party also supports progressive income taxes, and would also like to tackle tax-avoidance schemes. EKRE supports tax cuts for energy, fuel, and medicine, among other areas. Eesti 200 would leave the tax system largely as it is now; though if the state were to require more income, it would look at establishing an environmental tax on unsustainable activities. Isamaa promises no new taxes or tax hikes, but would like to see a €5000 tax-free allowance for each child. The Reform party also would not raise taxes, and would establish a tax-free threshold at €700.
CORPORATE INCOME TAX
On the whole, the participants generally agreed that consistency and predictability were important regarding any country's corporate income tax (CIT) regime. Markets and foreign investment count on it. 
Mr. Reinsalu of Isamaa said that his party has no plans for changes to the corporate tax system, though it would like to see an easier and more flexible way of taxing dividends. It is also determined to end the double taxation of shareholders owning less than 10 percent of a company. Mr. Kiik called for greater fairness within the system, with "self-employed" companies, platforms, and larger companies all sharing similar tax responsibilities. 
Less clear are most party positions regarding the OECD's drive for a global tax agreement. Mr. Helme, however, said that EKRE was opposed to it, as it remains firm on tax sovereignty. 
EDUCATION, TRAINING, IMMIGRATION, AND ESTONIA'S ATTRACTIVENESS FOR FOREIGN TALENT
Throughout the debate, Mr. Helme acknowledged that EKRE is largely an outlier in many of its positions, and certainly regarding immigration and the number of immigrants now in Estonia. He portrayed the current situation as dire, a point with which the others strongly disagreed. Ms. Sikkut, for example, said that one of the biggest problems in recent years has been a national lack in workforce. 
The Center Party, Eesti 200, Isamaa, and SDE support increasing educational support, training, and re-training, and generally support attracting more foreign specialists. Mr. Sutt discussed the need to promote technical educations among Estonians and quality-of-life issues to ensure that Estonians remain in Estonia. 
ENERGY
Mr. Kaju began the discussion by asking, "Where will abundant, cheap electricity come from in five years?"
Mr. Reinsalu began by talking about the importance of investing in renewable energy. Mr. Helenius then discussed – with Estonia's long shoreline and the shallowness of the sea off its coast – the potential for wind power. It's enough to cover the country's energy needs many times over, he said, and it will make the country more attractive for energy-intensive manufacturing. He advised investing in storage, transmission, hydrogen technology, and base-load solutions. 
Mr. Sutt likewise promoted the potential of solar and wind power, adding that oil shale will never be a source of cheap energy. Ms. Sikkut said that solar capacity has increased ten-fold in Estonia over the last five years, and that the country should stay on track in solar and wind development. Mr. Kiik discussed the power and potential of biogas, pointing out that many of Tallinn's buses now run on it. He also said that he was open to discussions about nuclear power. 
Mr. Helme insisted that the cheapest and most abundant energy will come from local oil shale, and after that he would develop the country's nuclear power capacity. "No way am I signing on to wind and solar," he said, condemning the "barking mad green policies" of other countries. 
HEALTHCARE
Mr. Kaju began this part of the debate by saying that within the group of OECD-member countries, Estonia is among those contributing least from its public coffers to public healthcare, though with some of the highest out-of-pocket expenses. He added that this is likely a problem in attracting foreign talent. 
Mr. Helenius touted the very high quality of healthcare in Estonia. He said that private insurance options for international care should perhaps be studied, given the country's small size precluding its ability to specialize in all areas of medicine. Mr. Sutt discussed the great business potential of developing biotech in Estonia and the importance of investing in care for the elderly. Ms. Sikkut agreed that Estonia's healthcare system is good, but called for more financing and greater access for all. Mr. Kiik also highlighted the need for reform and better financing. Mr. Reinsalu and Mr. Helme discussed the benefits of adding private insurance, input, and competition to the system.       
The event was live-streamed by ERR News and the full recording of the debate is available HERE.
Event photos by: Nikita Turok, ACube Agency (c)