Q: It has been a year since the General Data Protection Regulation came into force. Could you please tell us a little more how it has affected or maybe will affect Facebook even more in the nearest future?
A: The GDPR holds companies of all sizes accountable for how they use data. Our apps have long been focused on giving people transparency and control, and this gave us a very good foundation to meet all the requirements of the GDPR and to spur us on to continue investing in products and in educational tools to protect privacy.
We're also helping small businesses understand the GDPR, and find the resources they need to prepare because their continued success is also our success. Most o all we want to help people take control of their data. The EU is setting the standard. We rolled out a new privacy centre globally that put the core privacy settings for Facebook in one place, and we made it much easier for people to manage their data. Finally, we launched new campaigns to help people understand i.a. how Facebook advertising works.
Q: In today's world of innovation and social media, there are numerous platforms that different generations are using and actually preferring. What are the most recent developments and strategies at Facebook to keep maintaining and growing the number of users and to stay on top?
A: We continue to see fast adoption of Stories in each of our platforms. Stories on Facebook, Messenger, Instagram, and WhatsApp are used every day by over half a billion people. People around the world are shifting to Stories as an ephemeral, private way to interact and connect with others. Stories is becoming so popular that it is set to surpass News Feed next year as the most common way people share on our platforms.
This is a part of a wider trend toward a more private digital life. The basic idea here is that in our lives, we all have public spaces like the town square and private spaces like our living room. In our digital lives, we both also need both private and public spaces. We already see that messages, small groups, and Stories are by far the fastest growing areas of online communication. We expect this trend to continue and we are accommodating it in our strategy.
Q: Please give our members a piece of advice – besides paid ads, carefully chosen content and targeted audience, what would be a good insider tip for a more successful marketing strategy on Facebook?
A: There is an increasing demand for businesses to communicate with consumers on a platform that is familiar and easy to use, such as Messenger and WhatsApp, which is why messaging platforms will play an increasingly important role for businesses.
Businesses can also benefit from good storytelling, which is more important than ever for building community and connections. Tools which rapidly gain in popularity, such as Stories and video ads work great for that. Already over 3 million advertisers use Stories Ads to reach customers across Instagram, Facebook, and Messenger.
Q: Has AmCham network in Europe been helpful to Facebook and if so, how has your AmCham membership benefited your company?
A: AmCham is always a wonderful place to meet people and connect with important stakeholders. It is a wonderful community for Facebook to discuss the added-value but also sometimes the challenges of innovative digital tools.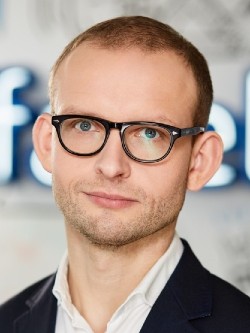 ABOUT FACEBOOK:
Facebook, Inc. is an American online social media and social networking service company based in Menlo Park, California. It was founded by Mark Zuckerberg, along with fellow Harvard College students and roommates Eduardo Saverin, Andrew McCollum, Dustin Moskovitz, and Chris Hughes. Wikipedia
Founders: Mark Zuckerberg, Andrew McCollum, Dustin Moskovitz, Eduardo Saverin, Chris Hughes Trending
Founded: February 2004, Cambridge, Massachusetts, United States
CEO: Mark Zuckerberg
Headquarters: Menlo Park, California, United States
CFO: David Wehner